Bridgwater & Taunton College is delighted to have won the 'Centre of the Year' award at the prestigious City & Guilds Lion Awards, often dubbed the 'Oscars of skills education'.
The Lion Awards recognise and honour exceptional Further Education learners, tutors and centres for their outstanding achievements in professional and technical education, both in the UK and internationally.
The College has already been awarded a City & Guilds Medal for Excellence, which is a fantastic achievement in itself with less than 100 being awarded annually. The Lion Award winners are selected from the Medals for Excellence winners and represent the very best from that year's entries.
College Principal and Chief Executive Andy Berry was presented with the award by Her Royal Highness, The Princess Royal, at a glittering ceremony at the Guildhall in London.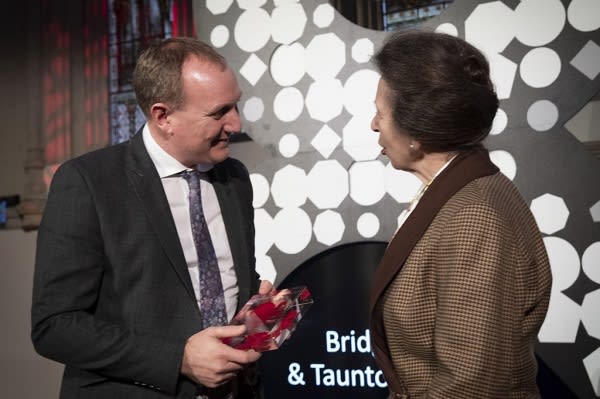 The event was a particularly special celebration as it marked the 140 th anniversary of the Lion Awards.
Andy said, "We are delighted to have been presented with this award that recognises the many ways in which our learners benefit from innovative approaches to teaching and learning at the College. We continue to be proud of all of our students and of our fantastic staff team who help them to achieve their aspirations."
Bridgwater & Taunton College works in partnership with City & Guilds, a world leader in global skills development, to deliver a huge range of qualifications in subjects including bricklaying, functional skills, cookery and social care.
The College has earned the Lion Award as a result of its strong commitment to the support and development of students and staff, constantly looking for and introducing ways to improve teaching and learning opportunities.
One of the ways that the College is ensuring that students have the best chance of success is the introduction of its unique BTC Advantage programme, which sets out a framework in which curriculum and other experiences at college can be combined to support student progress. Students can access a range of enrichment activities, from trips and visits to parkour and debating clubs, designed to help them to become, amongst other things, more confident, safer, happier and healthier, and to have higher aspirations.
Find out more about the BTC Advantage on the website, www.btc.ac.uk.
Stay up to date with more Taunton News, Taunton Events and Taunton Jobs