The Somerset Careers Fair known for being the largest event of it's kind in the area comes to Taunton this year.
Boasting over 50 exhibitors including the Armed Forces, FE Colleges, Universities, Training Providers and Employers it's a fantastic opportunity to speak to the experts, discuss possible career paths and create positive futures.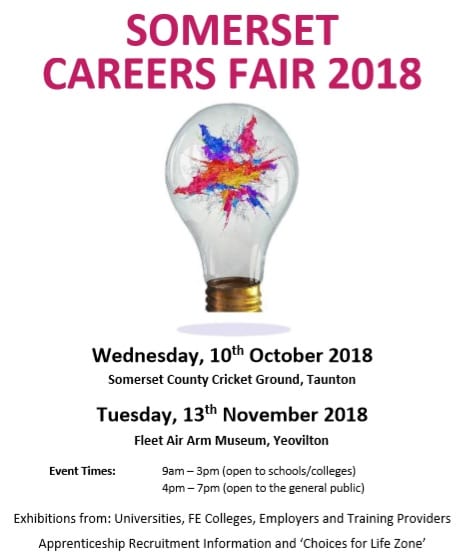 The event is open to local schools from 9.30am – 3.00pm and organisers anticipate over 1500 students to attend during the day
Doors are also open to the general public from 4.00pm – 7.00pm to give as many people the opportunity to attend
A spokesperson commented; "We know how difficult it is as a parent/carer to support young people with informed decisions relating to their future, especially education, careers and job routes. Making the right decision about career progression routes has never been more important."
"It can be a minefield to get accurate, timely and important information relating to the many options stages and varied progression routes including Higher and Further Education, University Fees & Loans, Apprenticeships, jobs.  It is becoming increasingly important to get the right information at the right time – to help support GCSE options, Post 16 institution choices and Post 18 routes."
The Somerset Careers Fairs are aimed at providing parents/carers with the latest, best, impartial advice and information from the widest range of institutions and providers – including Sixth Forms, Colleges, Universities, Apprenticeship providers, employers, community sector organisations, etc.
From 4-7pm the Fair will be aimed at Parents and their young people to come and meet and find out more about these different routes and options. The Fairs are free to attend and there is parking nearby.
For more information please visit their website:  www.somersetcareersfair.co.uk or contact one of their team  admin@somersetcareersfair.co.uk